Contact me via email. I am happy to answer questions and offer details such as whether the work is framed, etc. – Bill
About
Artist Profile: Bill Goffrier
Bill Goffrier On February 17, I spoke on the telephone with Wichita, Kansas based artist and musician Bill Goffrier. He was disarmingly candid while we discussed his experience and motivation to make art and music professionally on his own terms for over three decades. Today Bill is preparing for his upcoming show at the Wichita Historical Museum. He'll be showing recent landscape paintings done in oil on board, currently his media of choice.
A native midwesterner, Bill was raised in Kansas. In 1980 he earned his Bachelor of Fine Arts Degree from Wichita State University. At this time the band he formed with fellow Wichita State art students, The Embarrassment, was going strong, breaking trail for artsy post‐punk in the Kansas rock music scene. An underground success, The Embarrassment recorded prolifically, which became a creative juggling act for Bill. As he recounts the highs and lows of his career it is easy to imagine it set against a background of jangly guitar riffs that demarcate his style. To say this, the ups and downs, seem simultaneously confident and tenuous. Independent, yet unpretentious, Bill comes across as an unlikely pioneer.
Throughout his career there has been an integral rhythm for Goffrier as he alternates between audio and visual modes of creative output. On recognizing the unique opportunities that arise from a given situation, Goffrier says: "If music was very satisfying, then I'd think 'OK, I'm not gonna paint for a while. I'll get back to it cause I can do that anytime.' It goes like that."
Eventually The Embarrassment ran it's course, and in 1983 Goffrier moved from Kansas to Boston to attend the Master of Fine Arts Painting program at Boston University. With a renewed focus in painting Goffrier, had little interest in beginning another serious musical endeavor. However, by the end of his MFA program he began an informal collaboration with some like‐minded local musicians that manifested as the band Big Dipper.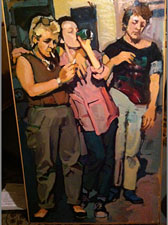 On the chronology of his creative ebb and flow, Goffrier has commented that during the late 80s contributing to Big Dipper preoccupied him, in the 90s he painted prolifically. Currently, he takes on smaller musical projects that require less commitment. He works on solo material in addition to writing and recording with his wife Karlee. Bill "likes doing all of it" and feels fortunate to have found a balance that allows him to achieve accomplishments in both art and music.
After graduate school he took to watercolors, which he used for many years. Favoring them for the convenience they lent to plein air painting. However, for the last few years Bill has returned to painting primarily in oil on wood panel. Among Bill's paintings are many landscapes. Regardless of media, in this genre the most striking attribute they share is sensitivity to observed light. Favoring cool colors he uses abrupt tonal shifts to emphasize implied line imbuing his compositions with a sense of nostalgia.
Viewing these paintings I am reminded of Edward Hopper. When I asked Bill about this he said: "Hopper is an obvious influence. While I think my paintings are 'Hopperesque,' I don't try to paint like Hopper. If there were ever a painter who I was trying to paint like, its Charles Burchfield." Bill is deeply impressed by Burchfield's watercolors, that he describes as "German Expressionism mashed with down home American Realism." In addition he cites disparate influences such as John Singer Sargent, Winslow Homer, Van Gogh and Ernst Ludwig Kirchner. In painting as well as recording Bill samples specific techniques from eclectic sources. In the case of Hopper it's his light, in the case of Paul McCartney it may be his phrasing.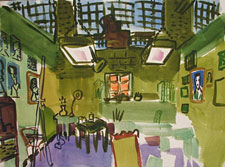 In our discussion Bill points out two things that I think are key components to his creative process. One is that he recognizes the challenge in trying to create beyond your influences. The second is the most critical, and that is to not "overthink" these decisions.
Particularly with his bands Bill has received substantial critical acclaim, yet the big time has eluded him – and he's over it. "It would be nice," he comments coyly. But he recognizes the personal liberty that comes with choosing not to play the industry game that he quickly tired of. There was a time when he hustled his art to galleries, and hung on their criticism, in the end, he was happier just painting "what I saw, and what I liked."
Bill knows his clientele. He occasionally shows his work in galleries but does not have an agent. He sells his work via his website Bill Goffrier Studio, or by advertising on social media platforms such as Facebook. Aware of the cost prohibitive nature of fine art he paints in smaller formats and is working on editions of high‐resolution inkjet prints of his more popular pieces.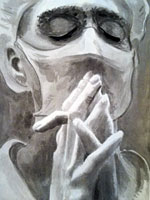 Bill has worked in various vocations to supplement the income he earns from painting. He has had a stint as a museum guard and he's worked in frame shops, but most consistently he's been an art teacher. Regarding teaching, Bill comments that it "was never the plan," but has become a necessity. He teaches young kids, kindergarten through fourth grade. In this role, he works to inspire kids to recognize their abilities, "get to them before they become too cynical." Comically, when I ask Bill if he would miss teaching if it were no longer necessary he answered without hesitation, "No."
Bill offered this wise sentiment to aspiring artists: "Look for the good and the humor in everything. Be aware of how precious the present is. And if it still sucks, be glad it will be the past very soon."
– Joseph Auclair, March 4, 2015